Gibraltar Cemented as a Preferred Jurisdiction for Crypto Hedge Funds
Report by PwC and Elwood confirms Gibraltar as a jurisdiction of choice for hedge funds, backed up by leading fintech lawyers  from ISOLAS LLP.
The third annual research report into the global Crypto Hedge Fund space, commissioned by PwC and Elwood Asset Management, has seen Gibraltar secure its place as the third preferred jurisdiction for the domiciliation of hedge funds, behind the Cayman Islands and the United States.
While the Cayman Islands and the United States maintained their position as the top-two places where crypto hedge funds are domiciled, their market share declined overall. Meanwhile, Gibraltar overtook the BVI and Luxembourg, pushing down Liechtenstein to less than 5%.
The data confirms that funds tend to be domiciled in the same jurisdictions as traditional hedge funds, supported by one of Gibraltar's leading crypto and funds law firm, ISOLAS LLP. The firm continues to work with leading and disruptive crypto funds, managers and exchanges who choose the British Overseas Territory for its advanced regulatory approach, particularly on crypto and distributed ledger technology, in addition to its work with traditional hedge funds.
Jonathan Garcia, Partner at ISOLAS LLP, said: "From early days, Gibraltar has been on top of its game when it comes to the legal and regulatory landscape for crypto funds. We have proven to have one of the most forward-thinking governments globally regarding crypto and blockchain technology; this coupled with regulators that are willing and open to receive input from external industry experts has propelled Gibraltar to become one of the most attractive jurisdictions for fintech and crypto businesses."
The report shows that the total Assets under Management (AuM) of crypto hedge funds globally increased to over US$3.8 billion in 2020 from just over US$2 billion in the previous year. Although the vast majority of assets are still highly concentrated among the top-10 largest hedge funds, which control 63% of total AuM, 2020's crypto bull market – highly impacted by institutional investment in the space and an increase in general public interest in alternative investment solutions – saw a growth in the number of funds managing larger amounts of assets.
Joey Garcia, ISOLAS' Fintech Partner added: "The data in the report demonstrates that Gibraltar continues to hold a position of privilege in the sector, as interest continues to grow in our jurisdiction, but also points towards impressive overall growth. Increasing exposure to the space through appropriately regulated fund structures is an obvious trend, as is the jurisdictional base of the management teams involved so it is great to see Gibraltar independently recognised as one of these."
Luke Walsh, a Director and crypto-lead at PwC Gibraltar said: "Gibraltar's global leading position in the crypto and fintech space is a testament of its commitment to keep at the forefront of financial and technological innovation. The jurisdiction's fund offering is appealing to crypto fund investors and managers, particularly as regulation continues to evolve, which is very exciting, and it positions the jurisdiction as a jurisdiction of choice for crypto funds and other crypto businesses".
The report, compiled from data gathered in the first quarter of this year, provides an overview of the global crypto hedge fund landscape and examines both quantitative indicators, such as liquidity, and qualitative aspects, such as custody and governance best practice.
You can view the full report here.
Freedom of Information Act
Freedom of Information Act
The Freedom of Information Act (FoIA) will come into force early next week, and is seen as a step in the right direction in respect of transparency obligations on behalf of Her Majesty's Government of Gibraltar (HMGoG).  Whilst England and Wales legislated their own Freedom of Information Act as early back as 2000, Gibraltar's progression in this space has evolved in line with technological development and seen a more measured response.
What is freedom of information for the purposes of the FoIA?
The soon to be enacted FoIA will give individuals the right to ask public authorities whether they hold certain information, and if such information is in fact held, the applicant will have the right to be given the information if requested through the correct channel and the correct procedure is followed.
Certain conditions do apply to the FoIA such as a restriction on disclosing any information to a member of the public that would contravene any of the principles contained within the Data Protection Act 2004 (DPA), as read with the "Gibraltar GDPR" [1] or otherwise would fall to be disclosed under that regime. For example, exercise of a data subject's right of access in the form of a Data Subject Access Request (DSAR) will fall within the remit of the DPA/Gibraltar GDPR and will be outside of the scope of the FoIA, so it will be important not to confuse these distinct rights.
Further still, the FoIA specifically excludes any request for information which wholly or partly relates to environmental information as any applications for such information will continue to be subject to applicable procedures under the Environmental Regulations 2005 and the Freedom of Access to Information on the Environment Regulations 2005.
What is meant by public authorities?
The list of public authorities that are subject to the FoIA will be listed in the Schedule to the FoIA in due course. However, a phased introduction will mean that the first three piloted departments will be the Department of Education, the Human Resources Department and the Gibraltar National Archives.
Although the phased approach being taken by HMGoG will mean that only three departments will participate at first, the ultimate goal is to have a system in place which will apply to most public authorities. For the purposes of the FoIA, the definition of "public authority" includes:
government departments;
any body or person that carries out functions of public administration;
any body or person that is under the control of either Government departments or persons that carry out functions of public administration (provided they have public responsibilities, exercise functions of a public nature or provide public services); and
a person or body who the Minister with declares to be a public authority. The Minister for the purposes of the FoIA is a minister designated by the Chief Minister by Notice in the Gibraltar Gazette.
Who is eligible to apply for information?
Under section 4 of the FoIA any person who has attained the age of 18 and is resident in Gibraltar has the legally enforceable right to apply for and be given access to information held by the public authority in question.
How do I make an application for information?
Applications for access under section 5(2) of the FoIA must:
be in writing;
specify that it is made under the FoIA;
be accompanied by an application fee and applicable charge under (section 8); and
contain such information as in reasonable for the purposes of identifying information in question.
HMGoG has also announced a dedicated portal to be added to the e-services section of its website (www.gibraltar.gov.gi), which will include guidance notes, forms and general information in respect of applications under the FoIA. General queries in respect of the FoIA can also be addressed to foi@gibraltar.gov.gi.  The Citizens' Advice Bureau (CAB) will be the point of contact for anyone who requires assistance in person with the operation of the electronic portal.
When can I expect to hear back from the public authority in question?
Public authorities have one month from receipt of the application to either (i) disclose information in their possession or (ii) make the decision to refuse to do so. However, under section 7 of the FoIA, public authorities may extend the period of one month to two months in cases where they reasonably believe that the complexity and/or volume of the information means that it would be impracticable to comply with the request or make their decision on refusal within one month.
Refusal should have a clear basis under an applicable exemption, given the FoIA provides a presumption in favour of disclosure. Some of the reasons under which a freedom of information (FoI) request may be refused under by a public authority include but are not limited to the following:
the public authority does not hold the information;
the request for information is manifestly unreasonable;
the information is otherwise already reasonably accessible to the applicant;
the disclosure would reveal confidential internal discussions between Ministers, public authorities and other persons (e.g. cabinet documents or briefing papers specifically prepared for use of a Minister);
the information is protected by parliamentary privilege or legal professional privilege
In addition, the FoIA will provide for refusal on more general grounds that the disclosure would adversely affect certain public interest grounds and/or the security of Gibraltar.
What will the fee be (if any)?
Subject to section 8 of the FoIA – all application fees and charges shall be prescribed by the Minister by regulations and different fees or charges may apply to different public authorities. An initial charge of £10 is expected to be levied per request, but this will be subject to review. There will be no additional cost for tracing, compiling and supplying the information where this is calculated to be £100 or less.
Is there anything else I should know when applying for information?
Public authorities will also be under a duty to provide the information in a particular form/format so requested by the applicant, unless:
it is reasonable to make information available in another format; or
the information is already publicly available and easily accessible.
Appeals
Where an FoI request is refused, the refusal shall inform the applicant that he may make representations to the public authority and also of their right to apply to the Information Commissioner for a determination. The information Commissioner in this respect is expected to be the Gibraltar Regulatory Authority (www.gra.gi).
Under section 20 of the FoIA a party who is not satisfied with a determination made by the Information Commissioner (or in certain limited cases, the Governor) may, within 30 days after notice is given, appeal the determination to the Supreme Court of Gibraltar, which may then decide one of two things:
to uphold the action of the public authority; or
to direct the disclosure of the information requested by the applicant.
The decision from the Supreme Court shall be final save that an appeal against such decision may be brought to the Court of Appeal on a point of law.
Michael Adamberry & Aidan Plows – ISOLAS
For any additional queries or concerns, the Information Rights, Data Protection and Privacy Team at ISOLAS are on hand to assist. Visit https://gibraltarlawyers.com/practice/data-protection or contact our experts directly: james.montado@isolas.gi Partner or michael.adamberry@isolas.gi Associate.
[Disclaimer – this article represents the views of the authors and is written on the basis of legislation which has not yet been brought into force and is therefore subject to review/amendment. Nothing in this article is to be taken or relied on as legal advice. If you require advice on your FoI rights, or other advice, please contact the relevant ISOLAS team on the above details.]
[1] Following the end of the transition period the EU GDPR now forms part of Gibraltar law by virtue of section 6 of the European Union (Withdrawal) Act 2019, as read with (i) section 2(1B)(a) of DPA; and (ii) the Data Protection, Privacy and Electronic Communications (Amendments etc) (EU Exit) Regulations 2019. This is now referred to as the "Gibraltar GDPR", which is essentially the EU GDPR read with certain modifications.
Lionel Culatto
It is with great sadness that we inform you of the passing of Lionel Culatto on the morning of 21 May 2021.
Lionel was called to the bar in 1976. Lionel returned to Gibraltar and after working for another law firm joined Isola & Isola, as it was known then, in 1989.
He will always be remembered by all at ISOLAS for his supporting role within the firm, assisting where needed by way of research and his knowledge of the law.
Out of the office Lionel will be remembered as a staunch protector of Gibraltar's heritage for which he was awarded the Governor's Award for Merit in recognition of his contribution to the preservation of Gibraltar's architectural heritage in April 2021.
Lionel will be greatly missed by all of us at ISOLAS LLP.
Central Register of Wills Established in Gibraltar
On the 11th May 2021, National Registries & Companies House Gibraltar established a Central Register of Wills.
One of the most commonplace problems that presents itself in the days following someone's death is locating the will left by the deceased. This Central Register will be useful in myriad ways, including in determining whether the deceased had a will or not, where it could be found, and – in the event there are multiple wills – determine which is the true and final version.
After the leading court case of Face v Cunningham [2020] EWHC 3119 (Ch) it was decided that the burden of proof must rest on the party propounding a Will. With the introduction of a Central Register, Wills will be easier to locate on death, thus avoiding any delay in commencing the necessary administration, and avoiding the issue of conflicting documentation.
The Central Register will offer a fireproof storage facility available in which Wills and any additional supplements to the Will (Codicils) may be stored, in strict confidence, and in accordance with the terms agreed with the person who has made the Will or given a legacy (testator).
There are three ways in which Wills or Codicils can be registered:
A copy of the Will is securely kept at the Central Wills Register and the original endorsed and returned to the testator for safe keeping.
The testator chooses to deposit the original with the Central Register of Wills and an endorsed copy is given to the testator.
The testator can choose to register only the existence of a Will and its location without producing the Will itself.
There is never a perfect time to broach the subject of a Will, but ISOLAS LLP can help to make the process smoother.
Whether you're local or a foreign national, our experienced legal team will guide you through the process of drawing up and executing a Will, and advise you on how to best protect your assets.
In addition, we specialise in the administration of estates, assisting Executors/Administrators in the settling of debts and liabilities before the distribution of estate.
For more information or guidance regarding Wills and probate, contact Samantha at Samantha.Grimes@isolas.gi or Matthew Smith at Matthew.Smith@isolas.gi.
Guidance notes relating to the Central Register of Wills can be found here
The Requirement for clear drafting within League Rules and Competitions
This week, the Supreme Court of Gibraltar ruled on an extraordinary matter in respect of Europa FC's application for an injunction to prevent the Rock Cup final from being played, in the process highlighting that football clubs in Gibraltar are capable of seeking legal recourse in the Gibraltar Courts.
This follows Europa FC's appeal against the Gibraltar Football Association (the "GFA") and its Appeals Committee's decision to find that Europa FC had breached its rules and regulations. Specifically, the GFA disqualified Europa FC from the Rock Cup on the basis that it had breached rule 14.8 of the GFA 'league' rules which provides as follows:
            "14.8 In relation to rule 14.7 above [permitting 5 substitutions in a match], at least 2 of the 5 permitted substitutions must consist of Home-Grown Players under the age of 23. A breach of this rule shall result in the match being declared a forfeit by the team committing the breach."  
The GFA and its Appeals Committee found Europa FC to be in breach of these rules on the basis that only one of Europa FC's substitutions involved a player under the age of 23 being substituted into the game.
Europa had contended this rule apply to the League, not the Rock Cup, and that even if it did, they acted within its parameters, questioning the ambiguity of the league rule's use of the word "consist", as in their semi-final win against Lincoln, Europa's first substitution involved an under-23 player leaving the pitch and a player over-23 coming on. Their fifth substitution involved a straight swap between two under-23 players.
It would seem, therefore, that the dispute was over the drafting of the league rules, specifically whether the word "consist" is sufficiently broad to also include the removal of any under-23 Home-Grown Player.
This case highlights the importance of clear drafting for rules within sporting associations and competitions – particularly those which have large financial repercussions.
It appears that whilst the GFA intended for the National League Rules to be incorporated into the Rock Cup competition, they failed to include any section which specified that the rules were to so apply. It was therefore unclear whether these rules had to be followed by Gibraltar football clubs competing in the Rock Cup.
This is not the first time that the GFA's rules have come under scrutiny; multiple clubs this season have been deemed to have fallen foul of the Home-Grown Player rule which states:
"16.1 In any match, a Team must have at least 5 Home Grown Players on the field of play at all times except in the circumstances set out in 16.3 below."
Rule 16.3 provides:
"16.3 If during a match, a Team has exhausted its five permitted substitutions and finds itself in breach of 16.1 as a result of injury, illness or suspension, then rule 16.1 will not apply and the match shall continue in breach of the rule." 
One example of a team being found to have breached this was Glacis United in their game against Lynx on the 1st November 2020, when Glacis played with 4 Home-Grown players on the pitch for several minutes as a result of one of their Home-Grown Players being sent-off.. There have been similar instances involving several other clubs. The rule therefore seemingly fails to make exceptions for the safety of players who may need to warm-up in exceptional circumstances such as injuries or sending-offs.
In adopting such a strict interpretation of the rules, a team could be guilty of breaching the rule where a player receives medical treatment on the side of the pitch.
The ruling means that clubs who are aggrieved by a GFA decision may seek recourse from the Gibraltar Courts to appeal decisions irrespective of any Arbitration proceedings in place. Whether the Court is willing to decide such applications in ordinary circumstances, however, is a separate matter.
In any event, what has been made clear is the requirement for sporting associations, clubs and other incorporated bodies to have clear statutes and efficient decision-making processes, as the Gibraltar Court has shown its willingness to listen to applications which otherwise would have been subject to internal Dispute Resolution Committees or the Court of Arbitration for Sport.
For further information please contact: James Montado james.montado@isolas.gi  or James Castle james.castle@isolas.gi
New Reporting Deadline for Spain Tax Agreement
The deadline for the submission of information for the purposes of Article 2(2)(d) of the International Agreement on Taxation and the Protection of Financial Interests between the Kingdom of Spain and the United Kingdom of Great Britain and Northern Ireland regarding Gibraltar (the "Agreement") has been extended until Friday 7 May 2021.
In applying (2)(b) of the Agreement, the Gibraltar tax authorities are required to provide the designated Spanish tax authorities with a list of the persons charged with effective management and the legal beneficial owners of any Gibraltar-based legal person, entity or other legal structure or arrangement which  fall within the residency rules outlined in (2)(a)(iii) or (2)(a)(iv).
This information will be used to establish residency for tax purposes. The Agreement contains a safeguard which allows such legal persons, entities and other legal structures or arrangements that may fall under the criteria set out in 2(a) (iii) or 2(a) (iv) to retain their residency only in Gibraltar, provided they were incorporated prior to 16 November 2018, and that they can demonstrate sufficient physical presence and business and economic operations in and from Gibraltar.
What next?
For further information or for assistance with filing the return please contact: Emma Lejeune emma.lejeune@isolas.gi; Adrian Pilcher adrian.pilcher@isolas.gi; or Stuart Dalmedo stuart.dalmedo@isolas.gi.
The PJI Foundation Helps Fund Education for Local Clinical Nurse
Together with Kusuma Trust, the Peter J Isola Foundation has helped to fund HOS Clinical Nurse Specialist Daniela Ayre's MSc in Palliative Medicine from Cardiff University.
Specialist education that assists in improving cancer services and patient care is an important aspect of what Cancer Relief Gibraltar does. Funding and facilitating ongoing educational initiatives, with the support of associations such as the PJI Foundation, is a big part of their overall vision.
Daniela is pleased and proud to have completed her MSc, which has provided an excellent basis for further training, and is very grateful for the support. She is now in a position to implement her new learning and skills within her role at Cancer Relief for the benefit of all patients and their families in our community.  
A cheque of 50% for £2238.00 was presented by Tammy Isola, with the remaining 50% donated by Kusuma Trust.
Trustee Peter Isola said: "We are grateful to be able to assist local charities, and the incredible work they do. The Foundation is pleased to support educational and sustainable projects that give back to our community, such as Cancer Relief Gibraltar's educational initiatives. Congratulations to Daniela on the completion of her MSc, and the best of luck with her continued studies."

The PJI Foundation and Kusuma Trust Gibraltar Join Forces to Support the Mental Health of Young People in Gibraltar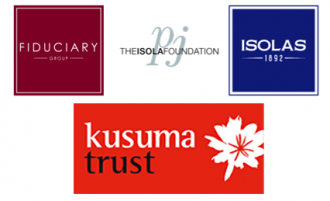 The PJI Foundation have teamed up with Kusuma Trust Gibraltar to fund a pilot project that will support young people with mental health issues.
The JM Memorial Foundation is a local charity which focuses on "value-based education, participation and inclusion." Over a period of 12-18 months, the charity will work with young people aged between 16 and 25 to build a needs-profile for each individual in order to offer practical psychological support, assistance with educational or employment needs, and guidance for their continued social integration into the community.
Kusuma Trust Gibraltar and the PJI Foundation have donated £8,000 to this worthy cause, which will enable the charity to identify and work with young people in need of support, providing them with the necessary tools to improve their mental health.
The charity hopes that the project will demonstrate that early, proactive intervention and personalised support for each individual, leads to a reduction in relapses and a long-lasting positive impact for the individuals as well as the community.
Peter Isola, senior partner of ISOLAS Law firm and a trustee of both the PJI Foundation and Kusuma Trust Gibraltar, commented:
"We are delighted to support the JM Memorial Foundation in its endeavour to improve mental health issues of young vulnerable individuals in a safe environment. They have been working tirelessly for our community for many years and continue to offer invaluable support to services users and the Mental Health Service."
About PJI Foundation
The Peter J Isola Foundation was established to celebrate the life of ISOLAS former senior partner, the Hon Peter Joseph Isola OBE, who passed away in 2006. The main goal of the Foundation is to support local charities to which Peter, and his wife Rosie, dedicated much of their time.
The Foundation has donated funds to a substantial number of Gibraltar charities including Gibraltar Alzheimer's and Dementia Society, Calpe House, Cancer Relief and The Gibraltar Health Authority. Details of The PJI Foundation's initiatives can be found on the website www.pjifoundation.com or follow us on Instagram @isolafoundation  
About Kusuma Trust Gibraltar
Kusuma Trust Gibraltar is a family-led trust making philanthropic investments in the community in Gibraltar. We give grants to causes, organisations and people that are making a positive difference to society. We choose partners based on our shared values and mutual interests.
Kusuma has supported numerous worthwhile causes such as the Kusuma University Talks, Excellence prize, Childline Gibraltar, Commonwealth Gardens and the beautification of Europa Point. Details of Kusuma Trust Gibraltar's work can be found on the website www.kusumatrust.gi or follow us on Twitter, Facebook and Instagram @KusumaGibraltar.
ISOLAS LLP Achieves Top-Tier Ranking by Legal 500 for a Consecutive Year  
The Legal 500 has today published its rankings for 2021, with ISOLAS LLP maintaining its top-tier position, cementing its position as a leading law firm in Gibraltar.
Rankings are based on feedback from 300,000 in-house peers and independently assessed by a team of expert researchers. A number of criteria are analysed across a wide range of specialisms, including Banking, Commercial, M&A, FinTech, and Shipping among others. In total, the firm is recognised in 11 separate practice areas.
ISOLAS has achieved Tier 1 and 2 across all areas.
Most notably their FinTech practice has surpassed last year's results and has achieved a Tier 1 ranking highlighting the firm's continued growth in this space.
A total of 14 lawyers at ISOLAS have been recognised by Legal 500.
Partner's Peter Isola, Christian Hernandez, Steven Caetano, Joey Garcia and Adrian Pilcher are all ranked as 'Market Leading Individual'.
Peter Isola is also ranked in the 'Hall of Fame' along with Christian Hernandez.
Christian Caetano and James Montado are once again recognised as 'Next Generation Lawyers' in the areas of ''Banking and Finance" and "Dispute Resolution" respectively.
A new addition to the rankings this year is Senior Associate Stuart Dalmedo who has been recognised for his knowledge and expertise as a Rising Star in Tax.
A total of 14 lawyers at ISOLAS have been noted in the following areas:
Banking and Finance: Christian Hernandez, Christian Caetano, James Montado. "Their team is very approachable and are always available for a consultation and provide quick and efficient advice when required."
Fintech: Joey Garcia, Jonathan Garcia. "Excellent Fintech and Investment Fund knowledge, particularly regarding digital assets. Team members are always reachable, always swift feedback on any queries."
Commercial, Corporate, and M&A: Peter Isola, Steven Caetano, Christian Caetano.
Dispute Resolution: Mark Isola QC, James Montado, Neil Costa. "Experts in the field of financial services and ready to go above and beyond. They are pragmatic and seek to find practical solutions with our best interests at heart."
Gambling Law: Peter Isola, Steven Caetano.
Investment Funds: Joey Garcia, Jonathan Garcia. "Technically sound and excellent advice best in industry!", "Knowledgeable, commitment and timely delivery."
Private Client: Peter Isola, Adrian Pilcher. "It doesn't matter where he (Adrian) is working we would have used him whichever law firm he was at."
Real Estate and Construction: Samantha Grimes, Mark Isola QC. "Their team is very approachable and are always available for a consultation and provide quick and efficient advice when required. They go further than to provide what the law says by providing a client seeking advice with the options and pros and cons of these in order to assist with an informed decision".
Shipping: Christian Hernandez.
Tax: Peter Isola, Emma Lejeune, Stuart Dalmedo.
TMT: Steven Caetano, Joey Garcia, Peter Isola.
Associate Harriet Almeida is also listed as a Key Lawyer.
Marcus Killick, CEO of ISOLAS, commented: "We are delighted to once again be recognised as a leading firm in Gibraltar by the Legal 500, following on from our successful Band 1 Chambers rankings this year. These rankings reflect the commitment and expertise of each of our lawyers."
The full rankings can be viewed here: Legal 500 – ISOLAS LLP
ISOLAS LLP Assists with the Drafting of Further Changes to the Proceeds of Crime Act 2015, Including Legislation to Implement the FATF 'Travel Rule' in Gibraltar
ISOLAS Partners Adrian Pilcher and Joey Garcia, and Associate Michael Adamberry have assisted Her Majesty's Government of Gibraltar ("HMGoG"), the National Coordinator for Anti-Money Laundering and the Combatting of Terrorist Financing ("National Coordinator") and the Gibraltar Financial Services Commission ("GFSC") in the drafting of the following pieces of legislation:
Proceeds of Crime Act 2015 (Amendment) Regulations 2021 ("POCA Amending Regs")
Proceeds of Crime Act 2015 (Relevant Financial Business) (Registration) Regulations 2021 ("RFBR Regs")
Financial Services (Specified Regulatory Decisions) (Amendment) Regulations 2021 ("SRD Amending Regs")
Proceeds of Crime Act 2015 (Transfer of Virtual Assets) Regulations 2021 ("TR Regs")
This work follows from Adrian and Michael's recent involvement with drafting the Proceeds of Crime (Miscellaneous Amendments) Act 2021 passed by the Gibraltar Parliament on 5 February 2021 (and which came into force on 9 February 2021). The drafting team has had a further opportunity to work as part of a dedicated taskforce guided by the National Coordinator and the GFSC, making further amendments to Gibraltar's legislation related to anti-money laundering ("AML"), combatting financing of terrorism ("CFT"), and counter-proliferation financing ("CPF") otherwise known as AML/CFT and CPF. Additionally, ISOLAS Partner Joey Garcia was also called upon for his expertise in the Fintech and distributed ledger technology ("DLT") space. Joey Garcia was involved following the gap analysis he had been instructed to conduct in relation to Gibraltar's DLT Framework and the FATF Recommendations, and VASP definitions.
The changes brought about by the above pieces of legislation, in part, deal with the implementation of the so-called 'travel rule' prescribed under the revised Recommendation 15 (as read with Recommendation 16) of the Financial Action Task Force's (FATF) Recommendations [1] on the International Standards on combatting money laundering and the financing of terrorism and proliferation, adopted by the FATF plenary in February 2012, as amended.
Travel Rule
The travel rule is essentially a requirement (derived from the FATF Recommendations) to collect and submit, immediately and by secure means, certain information along with transfers of virtual assets. In Gibraltar, these obligations are now placed on relevant financial businesses (RFBs), as defined in s.9 of the Proceeds of Crime Act 2015 ("POCA"), who send (on behalf of a "payer") or receive (on behalf of a "payee") virtual assets to or from "virtual asset service providers" or "VASPs".
The TR Regs operate by obligating the RFB acting for the payer in a virtual asset transaction (which we can refer to as the "originator RFB" for simplicity) which has been captured by the TR, to obtain and submit certain information on the payer and on the payee. In many cases the RFB may already have information on the payer, as part of its customer due diligence ("CDD") obligations under POCA which apply to regulated DLT firms in Gibraltar, as well as other RFBs. However, unless the payee is also one of its clients, the originator RFB is unlikely to have information relating to the payee and will therefore need to have the relevant industry systems in place which allow this information to be securely provided.
The RFB receiving the virtual assets on behalf of the payee (which we can refer to as the "beneficiary RFB" for simplicity) has the obligation to ensure it receives the required information from the originator RFB and then corroborate this with its own records in respect of the payee's name and, where applicable, the payee's account number.
The information-gathering requirements shift slightly depending on whether the RFB is acting on behalf or a payer, a payee, or both (as well as on its own behalf). However, regardless on whom the onus is to obtain, submit, or corroborate the information with their own records, virtual asset transfers covered by the TR Regs will be accompanied by the following specified information:
the payee's name;
the payee's virtual asset account number;
the payer's name;
the payer's virtual asset account number;
where the payee or the payer does not have a virtual asset account number, a unique transaction identifier; and
one of the following:

the payer's address;
the payer's national identity number;
the payer's customer identification number; or
the payer's date and place of birth.
RFBs also have to consider the obligations when they receive virtual asset transfers from a person other than a VASP (e.g. virtual assets received from an unhosted wallet). In such cases, the information they are expected to obtain from the payee is limited to:
the payer's name; and
one of the following:

the payer's address;
the payer's national identity number;
the payer's customer identification number; or
the payer's date and place of birth.
However, the travel rule does not apply where the RFB sends a virtual asset transfer to a person other than a VASP. In this case there are no information gathering requirements, other than the usual CDD requirements that an RFB has to meet under POCA.
Given the overlap of travel rule information and CDD information obtained during the normal course of an RFB's activities, the TR Regs make clear (r.6) that any requirement, under the TR Regs, for a RFB to obtain the information specified in r.4(2), or any part of it, shall constitute a CDD measure as if the requirement to obtain that information was listed in s.10 POCA. The record-keeping requirements under s.25 POCA are also applicable to information obtained when sending or receiving virtual asset transfers.
Virtual Assets and VASPs
Gibraltar has included a VASP definition which replicates the FATF definition of the same – this is contained in r.3 of the TR Regs. The only purpose of this definition is to define transactions between RFBs operating in Gibraltar and VASPs operating outside Gibraltar (and not therefore RFBs). Likewise, a definition of "virtual asset" is also used, which aligns with the FATF definition of the same – this concept is now defined in s.7 POCA and used in the TR Regs.
The concepts of VASP and virtual asset are intended to be self-contained to a large extent, and thereby do not substitute Gibraltar's existing DLT framework, prescribed under the Financial Services Act 2019 ("FSA19") and its subsidiary legislation and guidance (the "DLT Framework"). Gibraltar's DLT Framework, in place since 2017, already captured most of the activity falling into the FATF's classification of VASP activity. As a result of recent changes to POCA [2], a new s.9(1)(q) POCA now brings the following within the scope of that Act:
"(q) persons that, by way of business, exchange, or arrange or make arrangements with a view to the exchange of:
(a)          virtual assets for money;
(b)          money for virtual assets; or
(c)          one virtual asset for another."
For the purposes of paragraph (q) above, "virtual assets" has the meaning given to in s.7 POCA as amended, and "money" has also been defined in a self-contained definition that applies for the purposes of s.9(1)(q). Under the revised s.9(1A) POCA, "money" means: "(a) money in sterling; (b) money in any other currency, or (c) money in any other medium of exchange, but does not include a virtual asset".
As a result of these changes, VASP activity as classified by FATF now falls within s.9(1)(j), (p) and (q) POCA.
Other notable amendments
The occasional transactions threshold under which CDD needs to be carried out is reduced from 15,000 euro to 1,000 euro in the case of in the case of virtual asset transactions (newly inserted s.11(g) POCA), whether these are carried out as a single transaction or as several transactions which appear to be linked.
As a result of changes to s.30(3) POCA, persons convicted of a relevant offence under POCA (or their associates) will be prevented from holding a management function in, or being a beneficial owner of a broader category of RFBs in s.9 POCA, which now includes estate agents and letting agents (s.9(1)(h)), all controlled activities (s.9(1)(j), as read with FSA19), DLT firms involved in tokenised assets (s.9(1)(p)) and those persons that, by way of business, exchange, or arrange or make arrangements with a view to the exchange of− (a) virtual assets for money; (b) money for virtual assets; or (c) one virtual asset for another (s.9(1)(q)).
Under changes to s.25A POCA, RFBs must now factor in the impact of developing technologies (e.g.  virtual assets and DLT) for both new and existing products when they assess the risks of money laundering, terrorist financing and proliferation financing.
New registration requirements for four classes of RFB
The RFBR Regs impose an obligation on four classes of RFB, who are now required to register with the Gibraltar Financial Services Commission ("GFSC") for the purposes of AML/CFT and CPF supervision, to the extent they are not already supervised.
The following RFBs must now apply for registration (with transitional arrangements for existing RFBs to apply within 3 months of the legislation coming into force):
external accountants;
tax advisors;
undertakings that receive, whether on their own account or on behalf of another person, proceeds in any form from the sale of tokenised digital assets involving the use of DLT or a similar means of recording a digital representation of an asset; and
persons that, by way of business, exchange, or arrange or make arrangements with a view to the exchange of− (a) virtual assets for money; (b) money for virtual assets; or (c) one virtual asset for another [3].
Failure to register is a criminal offence punishable with up to 2 years' imprisonment and/or a fine.
The registration regime should not to be confused with any application for regulatory permissions required under FSA19, in respect of regulated activity defined under that Act. Such permissions would need to be sought if the RFB intends to carry out regulated activity.
Additionally, the registration requirements are not applicable where a person carrying out any of the above RFB activities is already subject to supervision by a supervisory authority, whether that supervisory authority is the GFSC, or any other supervisory authority specified in paragraphs (a) to (d) or (h) of Schedule 2 to POCA. As an example, an audit firm that is subject to GFSC oversight will not need to seek a separate registration for its accountancy practice.
The RFBR Regs also provide fitness and propriety criteria that the GFSC will need to consider when accepting or refusing registration (including the withdrawal of registration after it is granted).
Notably, these Regulations are only intended to make the GFSC responsible for supervision of the four classes of RFB within the context of AML/CFT and CPF systems and controls required under POCA, and do not therefore task the GFSC with the regulation and supervision of those RFBs in respect of their conduct of business, nor impose prudential and other regulatory requirements outside of this scope, as is the case with regulated activity under the FSA19.
New Specified Regulatory Decisions
The Financial Services (Specified Regulatory Decisions) Regulations 2020, which came into force last year, provided for certain decisions taken by the GFSC to be "specified regulatory decisions" within the meaning of s.24 FSA19. The SRD Amending Regs expand these further to include certain decisions made under the RFBR Regs as follows:
the decision to issue a decision notice under R8(5) RFBR Regs, where the GFSC decides to refuse an application;
the decision to issue a decision notice under R9(3) RFBR Regs, where the GFSC decides to suspend or cancel a person's registration;
the decision to suspend or cancel a person's registration with immediate effect under R9(5) RFBR Regs; and
the decision to publish information under R9(7) RFBR Regs in respect of any action taken under R9(3) or R9(5) of those Regulations.
The practical effect is that these decisions are now subject to the GFSC's Decision Making Committee ("DMC") processes. Notably, the DMC process is not invoked for positive registration considerations under the RFBR Regs.
Further guidance on the above changes has also provided by the National Coordinator [4].
Partner Adrian Pilcher commented: "We are pleased to have worked with industry and lawmakers once again on these latest developments in a dynamic space. The travel rule has been the subject of some controversy in many jurisdictions, given the limited amount technological solutions to facilitate the collection and submission of information, securely and immediately. We are particularly grateful to the Finance Centre, the National Coordinator, the GFSC and Government Law Offices, as well as Joey Garcia, whose previous work with industry and HMGoG in assessing the travel rule issues and its practical implementation has been pivotal to the drafting".
Partner Joey Garcia commented: "Although most DLT businesses will have been aware of the original FATF recommendations relating to the Travel Rule, their transposition into law has been very fast. What needs to be understood is that a lot of work has gone into the requirements being introduced in the right way to meet the Recommendations, but to do so in as practical and industry conscious a way as possible. The practical transposition of the FATF Recommendations has in reality varied significantly from jurisdiction to jurisdiction and Gibraltar's approach to this has been excellent. The GFSC have also been very open with the industry around the introduction of the requirements and the local GANT association has also already taken the training around the practical introduction of the systems required forward with the industry so I would see this as being as positive and constructive an approach as possible."
ISOLAS LLP Partner, Adrian Pilcher, who specialises in private client, tax and financial services law, and Associate, Michael Adamberry, who specialises in Banking & Regulatory Services, AML and Data Protection, are available to advise further on AML/CFT and CPF matters. Contact Adrian on adrian.pilcher@isolas.gi or Michael on michael.adamberry@isolas.gi. Additionally, for specific queries on DLT, Fintech and travel rule implementation, contact Partner Joey Garcia, who is a recognised expert in this space: joey.garcia@isolas.gi.
________________________________
[1] Find the FATF Recommendations here: http://www.fatf-gafi.org/publications/fatfrecommendations/documents/fatf-recommendations.html
[2] Note that s.9(1)(q) and s.9(1A) POCA introduced by the POCA Amending Regs (defined above) have since seen further amendment via the Proceeds of Crime Act 2015 (Amendment No.2) Regulations 2021, published on 29 March 2021. The wording in this article reflects the latest wording as at 31 March 2021.
[3] Note that r.4 RFBR Regs (defined above) has been amended via the Proceeds of Crime Act 2015 (Relevant Financial Business) (Registration) (Amendment) Regulations 2021, published on 30 March 2021, so this aligns with the wording in s.9(1)(q) POCA, as amended. The wording in this article reflects the latest wording as at 31 March 2021.
[4] Find the National Coordinator Guidance here: https://www.gfiu.gov.gi/publications